Have you ever searched for "pantry organization ideas" on Pinterest or Instagram? So many of the pictures are of drool-worthy walk in pantries, with perfectly coordinated and stylish containers. Some have open shelving with just a few turntables or baskets and lots of empty space. These pantries look amazing and photograph beautifully, but are not like many I have seen in many homes.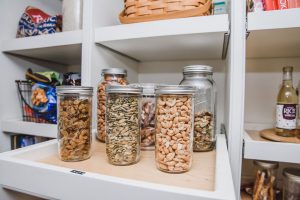 However, how do you create a functional and organized pantry when your home doesn't have a designated pantry space? While a pantry closet in the kitchen is a terrific bonus, a pantry can be made from existing cabinets, closets and even free standing furniture.
When you have challenging cabinets…
Some homes have cabinets that were added to older construction homes. Sometimes these are higher, smaller or deeper (or all of the above!) than what is convenient to access. Our home is a renovated Cape Cod, and the kitchen layout reflects the house's original 1940's construction. In order to make up for a lack of upper cabinets, a set of very deep, high cabinets were added above the wall oven. Even with a step stool, accessing the back of this cabinet is very difficult! Same with the cabinets above the refrigerator.
The easiest way to fix this is to sort items into categories and add them to shallow bins that can be removed from the cabinet as needed. This works better for lighter items like cereals and pastas, canned goods could be too heavy to get from an overhead cabinet!
If you have a corner Lazy Susan cabinet…
I have a love/hate relationship with my Lazy Susan corner cabinet! While it does give added storage, it can be somewhat frustrating to use on a regular basis. Many I see have two shelves, which can leave a lot of unused space. Items that are placed too close to the edge of the shelf can hit the door hinge and get knocked over as well. And visibility into a lower Lazy Susan cabinet is not great from a standing position.
To fix some of these issues, try these tips:
Add lighting- A motion detection, under cabinet mounted light like these can provide better visibility in a lower Lazy Susan cabinet.
Wedge bins- Pie-shaped bins like these  help keep items from falling over when turning the shelves. Take careful measurements when selecting your bins! Watch out for door hinges, you may need to use smaller bins than you would like to make them fit. Adding small rubber stick on pads to the bottom of the bins will help keep them in place
Labels- Labels, labels and more labels! Labeling the bins, containers and/or shelving helps everyone keep the pantry and kitchen organization.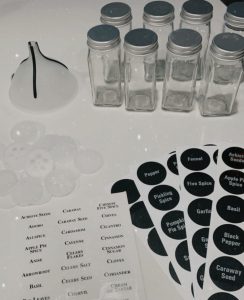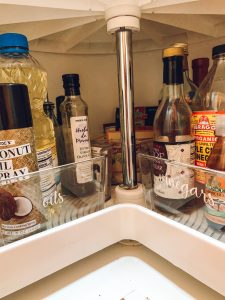 Using insides of doors…
Using the insides of closet doors can allow you to create pantry storage without a formal pantry. There are several different organizing systems that attach to doors by either hanging over the top or screwing in to the door. For standard size doors, the Elfa door system from The Container Store is a great option. It is modular, so you can mix and match storage pieces as you need. Keep in mind it will only work for standard size doors as all the components are at least 17" wide.
I recently worked with a client with a pantry that has a 13" door. I found this  narrow over door organizer by Closetmaid on Amazon. It worked so well I got it for my laundry room closet-turned pantry!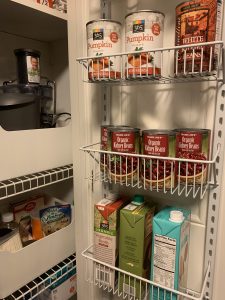 Freestanding furniture or shelving
If your space and budget allows, consider adding a shelving unit, cabinet or other piece of furniture to create added storage. Incorporating acrylic bins, turntables and baskets into a freestanding unit can make pantry organization much easier. Rolling carts like this one are a fun way to store canned goods or kid's snacks.
Looking for organization help, and are you in the NYC / CT area? Go to minimalisbliss.com to schedule a free in-home consultation.