Closet Organization. It's not one size fits all! 
Do you have a hard time organizing your clothes closet? Closet organization is a challenge when you have unusual closet storage. While newer construction or recently renovated homes may have updated storage solutions, not all do. And if you have an older home, your closets may be difficult to organize. We lived for 15 years with four children in a 1300 square foot antique colonial home. Zero closets downstairs until we built one in the downstairs bathroom, no upstairs linen closet, until we had one built. The bedroom closets were large by that era's standards, but basic. There was also an unusual closet in one bedroom above the stairs that had the floor of the closet about three feet off the floor. Since we weren't upgrading the closets, we had to be creative with storage and really selective about what we kept. Some deep closets have one closet rod behind another. While this provides more hanging space, it can be hard to use both closet rods.
The process is generally the same, even if the results  are not.
Working in client closets definitely can be a challenge, but thats what makes it fun! Antique homes and New York City apartments are not known for their ample storage. But while the available closet storage varies, the process for closet organization is usually pretty much the same.
Steps for closet Organizing
Patience: Put away your credit card and leave all those cute baskets and bins in your Amazon/Container Store/Target cart. This is  the last step, not the first.
Pull everything out: Empty out the closet you are planning  to organize. All of it! Now is also a good time to dust and vacuum it as well.
Pile: Separate into categories, one pile of each. Making really specific subcategories (Shirts=button downs, tshirts, long sleeve tshirts) gives you an accurate idea of how much you have of each before you move to the next step.
Purge: Maybe your sorting made it clear you are a fan of gray cardigan sweaters. Or that you own a ton of black workout tank tops, I'm not naming any names (it's me). Now is the time to select the most flattering, the ones in good condition. Edit down to the favorite ones that you actually wear, and donate the rest.
A note about editing your clothing… some of your clothes may bring about a feeling of happiness when you see them. However, if you are always choosing other items to wear, you may love it but aren't wearing it. Let it go. We only wear about 20% of our  wardrobes. Make your closet a space where you can easily locate your favorite items. 
Plan: Once you have your clothes down to what you are keeping, plan out your space to decide what will fit best where. Sometimes it feels like a game of Tetris. You may need sticky notes with the different categories to keep track of what categories will fit in a spot. When planning, determine how much you use something. Give those items the "prime real estate" in your closet.
Place: Place your items in their designated spot. This might require some shifting around from your original plan. It might even require further editing. If you are keeping some items but still not 100% sure you will actually wear it, hang it up with the hanger turned backwards. If in three months/six months/at the end of the season the hanger is still backwards, you always chose something else to wear. It's a good visual to help you see what you actually use. Consider hanging all of your clothes backwards and seeing what didn't get worn that season.
Purchase (if desired): Now the fun part! You know exactly what you are planing to keep, and where it will go. Now is the time to order those cute baskets and bins you were looking at. Take measurements to see which organization products work best for your space, style and budget.
Tips about purchasing organizational products
Purchasing all the cool organization items we find on Pinterest and Instagram can seem like a necessary step to getting a closet organized. They can definitely make it look prettier, and maybe more functional. But if it's not in your budget, have no worries. Even Marie Kondo uses small boxes and things she finds in her home to use as organizing tools.
Some of the items I most often use when organizing a clothes closet: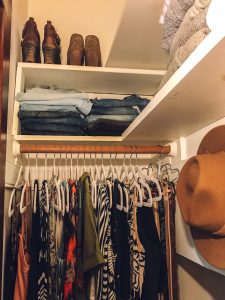 Slimline hangers.

Velvet covered are great for keeping shirts from slipping off. I like the plastic ones for hanging tshirts so the slide off without stretching the neck out. Either way, the slimline hangers will save you a lot of space and give a uniform look. They are not very expensive, and give a lot of value for the money. This is a great time to use your Bed Bath & Beyond 20% off coupon you've been saving! And I know you've heard this, but I will say it again. NO wire hangers! Recycle them at your dry cleaner. I put them into my husband's dry cleaning bag so I don't forget to take them when we drop it off.

Over door organizers.

These can be inexpensive ones that hang over the door with hooks, or one that attaches to the door like the Elfa system from The Container Store. Whether you choose hooks to hang jackets and hats, or pockets to hold extra shoes, using the door for extra storage is a great way to increase what your space holds.

Shoe  boxes.

Clear, stackable shoe boxes allow you to reuse them more easily. Drop-front shoe boxes let you take out a pair of shoes without having to remove other boxes stacked on top.

Bins for bags and purses. Bags filed upright into a large bin or basket will keep bags easy to find. Smaller bags can be nested into larger bags. Clutches can be lined up on a shelf or in a basket.
Your closet is a container.
And it has limits, just like a box or a bin. You may have been cramming more into it than can reasonably hold. When you have to really dig to find everyday items, you might be putting more into your "container" than it can hold. Small or unusual closets can be frustrating. The decision has to be made, have all the things (which you might not be able to easily  find or access), or have less but can store and wear easily. Most clients I have worked with don't wind up missing anything they donated. They all loved discovering long-lost items they hadn't been able to find in their closets. They loved opening a closet and being able see everything and know where to find it.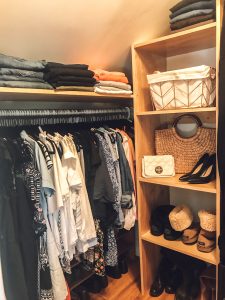 Spending the time to organize your closet can save you.
Time. How much time has been spent searching for an item because it didn't have a home?
Money. How many times did you have to buy a replacement because you couldn't find an item? Or when you found it, you discovered it wasn't useable?
Stress. How much stress was caused by spending time looking for something needed or having to find a replacement?
Sometimes having someone to help you makes the process easier. They might be able to give you another perspective on some clothing you might not be sure about. A friend or family member, or a professional organizer can help you go through your items.You never know when you might need a second opinion on some red corduroy pants, for example!
If you are in the Fairfield, CT or New York City area and would like help with your closet organization, contact us for a consult. We are currently offering virtual consultations at no charge.