We are planning an exciting challenge in our home:
We are listing our home as an Airbnb rental while we travel this year, and if it goes well it is something we will continue to do in the years to come. If we keep our house booked while we are away, we are vacationing for free!
Since my husband and I both have family that live far away, when we go to visit we plan to stay weeks at a time. Our home is very conveniently located and has a good amount of space, so why not share it with families looking for a getaway while we are gone? We posted our Airbnb listing, and got several bookings right away! It was a great motivator to get to work!
I believe this is one of our benefits of having a minimalist home! Since we don't have huge amounts of personal items, we can easily pack what we need to put away and leave our guests with a space they can call their own while they are staying.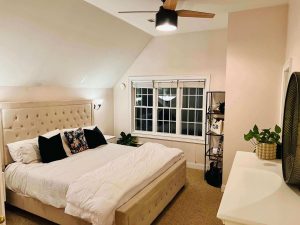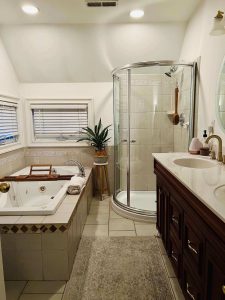 Here are the steps we have been taking to declutter and organize for our Airbnb guests:
Designate where to store personal items.
We will not be clearing out our basement storage area, as this area is off limits to guests. We can store some personal items from the main floor here, such as toys from the playroom that might not be suitable for younger children. Lego blocks will be put away, wishful thinking that we can keep them down here after we return! Read my playroom organizing blog and you will know what I mean! We also have a finished walk up attic, so we have decided that is where most of our personal items will be stored while we are away. Mostly clothing has to go up here, and our personal bedding will be stored here as well.
Start packing non-essential items.
As soon as we got our first booking, we began packing up things we aren't actively using in our bedrooms. For the twin's room, this meant their collection of memorabilia books from when they were babies. In our room we started with emptying our bedside tables of things we don't use (photos and greeting cards, mostly), and removing photos from the walls and surfaces.
Declutter as you go.
This is the perfect time to declutter our spaces! Even though we are not moving out of our house, we are moving most of our belongings to storage areas. I have no interest in storing items we don't use, need or love.  And it has been interesting to see how even with a fairly minimalist amount of belongings, we have still been donating items and finding papers to trash. I also began donating heavy winter clothing the twins will not fit into next year. Since we have to actually touch most of our personal belongings, we can take the time to evaluate if we still need or want them.
Getting the right storage supplies.
Wardrobe boxes: We set up the wardrobe boxes in our storage space and have been filling them with unused clothing. The heaviest winter coats from the front hall closet (it's still cold, but spring is nearly here!), jackets from my college age daughter's room, and summer and larger "to grow into" clothes for the twins. Besides their school clothes, the closet is empty of hanging items. The bedding from my college age daughter's bed is being stored in her wardrobe box. They fit nicely below her jackets.
Bankers boxes: These are wonderful for packing! They are sturdy, great for books and small items, and uniform in size. Uniform size boxes makes it much easier to stack them. Label them clearly by room and contents. I also find they are easy to carry because they have handles and are too small to make overly heavy.
Plastic storage bags: These were a wonderful find for packing up clothing from the dressers. The bags are lightweight and easy to carry. They can also be stacked. They will also be perfect for storing the Airbnb bedding and towels until we need them again.
Plastic bins: We will use  plastic storage bins to store our bathroom vanity contents. I also used a few for my college-age daughter's clothing, since she is *not* a minimalist and needed more storage!
Freestanding wardrobe rack: Since my daughter who is away at school has the majority of her personal items in her closet (it has hanging space, drawers, and shelving) and it's too much to easily pack away, I will lock the closet and put a freestanding clothing rack in front of the closet. This is a great way to give the guest a place to hang items without having to completely empty a closet. Anything valuable or very personal has been packed away.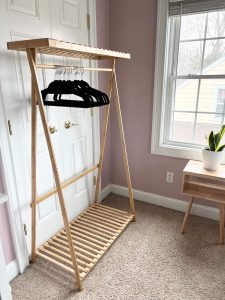 .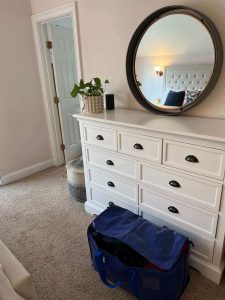 Preparing the kitchen:
Our kitchen is not large, but it is extremely functional. While most of our daily cooking is simple, we have used this little kitchen to cook large family holiday meals. For a short term stay, it is nearly ready to go. I plan to remove our vitamins and supplements, and will set up a coffee and tea making station for our guests.
Our Motivation: Vacationing for Free!
Like listing the house on Airbnb, we often wait for a motivator to declutter, clean or fix our homes. Usually it's a move to a new house or having company come to visit. I can be guilty of putting off small repair projects. I can say from this experience that it felt really good to get those small repairs and fixes done. We had been meaning to do them and kept putting it off. It took less time to do than we thought they would. And they feel so good to have checked off our list, and make us happier in our home. They aren't sitting in our mental "to-do" list anymore, and it's a great feeling!
Does this sound familiar with the cluttered areas of your home? If you have been putting off a decluttering project in your space, create a  motivator to help you get it done. This can be planning an event in your home, or scheduling a decluttering session with a friend or family member. It could be hiring a professional organizer, because the investment of time and money can be motivating. And by bringing in help, you can accomplish more in less time. Don't wait for a move! It would be wonderful to enjoy your lighter, decluttered home while still living in it!
Conclusion:
By keeping personal items to  a minimum and ordering the right packing supplies, we are able to quickly and easily store away our belongings and make our home available to Airbnb. By listing our home for guests, we are able vacation for free.